Joining Our Volunteer Staff
For more information regarding the Speculative Literature Foundation, including information on volunteering as a committee member, contact Dr. Mary Anne Mohanraj at director@speclit.org. In your letter, please indicate on which of the following committees you would like to serve; you may choose more than one committee, although we recommend no more than three. You do not need to be a paid member in order to serve on one of our volunteer committees. If you are interested in serving on our academic advisory board, please also include an indication as to your college/university affiliation. Thank you for your interest!
For more information visit our FAQ section
Staff
Last updated: Nov 3, 2018
Management Committee
Dr. Mary Anne Mohanraj, Director
Grants and Awards
Malon Edwards, Grants Administrator
Reading Series Coordinators
Dr. Mary Anne Mohanraj, Coordinator
Chris Bauer, Coordinator
Teen Writing Workshop
Joan Cristy Maguad, Coordinator
Emily Brumley, Assistant Coordinator
Small Press Co-operative
Jude-Marie Green, Coordinator
Publicity
Ellen B. Wright, Social Media Coordinator 
Irene Bruce, Publicist
Webmasters
Gregory B. Banks
Kaolin Fire
Site and Graphic Design
Ajapa Sharma, Arts Administrator Intern 
STAFF BIOS
Gregory Banks
Gregory Banks has worked as moderator for Zoetrope All-Story Writers Workshop, as site administrator for Scrawl: The Writer's Asylum, and as webmaster for WRITER and MARKET Literary Search Engine. He's now co-Webmaster for the Speculative Literature Foundation. His recent publishing credits include The Rose & Thorn, Story House, StoneGarden.net, Creative Brother's Sci-Fi Magazine, and The Writers Post Journal.His first collection, Crossroads and Other Tales, is available from bookstores worldwide or from: www.wheelmansplace.com/CrossroadsBook.
---
Chris Bauer
Chris Bauer is a writer who is co-hosting Deep Dish with Mary Anne Mohanraj
---
 Irene Bruce
Irene Bruce resides in Brooklyn and has been immersed in science fiction and fantasy her whole life. In college, she interned for Analog and Asimov's. After college, she worked briefly in science publishing and currently serves as the Project Coordinator for the RCHN Community Health Foundation. In her spare time Irene enjoys reading, writing, and trivia nights!  
---
Emily Brumley
Emily Brumley  is an incoming high school senior from California.  She started writing consistently in sixth grade after entering a short story contest for the local Renaissance fair, and now considers it to be one of her passions.  When she is not writing, she enjoys playing the guitar, playing tennis, and walking her two wonderful dogs.
 
 
 
---
Amy Sterling Casil
Amy Sterling Casil is a 2002 Nebula Award nominee and recipient of other awards and recognition for her short science fiction and fantasy, which has appeared in publications ranging from The Magazine of Fantasy & Science Fiction to Zoetrope. She is the author of 30 nonfiction books, over a hundred short stories, three fiction and poetry collections, and three novels. Amy is the founder of Pacific Human Capital, a founding member and treasurer of Book View Café and former treasurer of the Science Fiction & Fantasy Writers of America. She teaches at Saddleback College and operates Chameleon Publishing.
---
Malon Edwards
Malon Edwards has been writing short stories since he was eight years old. His first story was about two astronauts who take a rocket ship to the Moon, where one decides to stay, all alone.
These days, his stories—sometimes steampunk and urban fantasy, other times horror and cyberpunk—are often set in an alternate or near-future Chicago and feature people of color. Born and raised on the South Side of Chicago, Malon now lives in the Toronto area with his wife and their two children. He has volunteered for the Speculative Literature Foundation since 2008.
---
Kaolin Fire
Kaolin Fire is the founder of Poemranker, co-founder of NFG, long-term guru and moderator of imaginaries (formerly The Science Fiction and Fantasy Writers' Co-operative), and co-webmaster for the SLF. He enjoys creation with pixels, words, oil paints, and generally any other sort of thing he can get his hands on or wrap his mind around. His favorite topics in fiction (and in life) are consciousness, dreams, social networking, artificial intelligence, and software development. You can sample his existence at eriF.org, see some of his comic thoughts, or help yourself to some of his tools, like writer's planner.
---
Jude-Marie Green
Jude-Marie Green has published stories in James Gunn's Ad Astra, Perihelion, and Toasted Cake, among others.  She attended Clarion West in 2010 and has the tattoo to prove it.  For the past 4 years she has edited and published the chapbook for her local science fiction writers' group, SFWritersOrbit, a subsidiary of Orange County Science Fiction Society.  Frequently a panelist at local, regional, and world conventions, she also has organized writers' workshops for conventions, including Potlatch. Visit her website at https://judemarie.wordpress.com. 
---
Joan Cristy Maguad
Joan earned a Bachelor's degree in English from the University of Illinois at Chicago with a concentration in Cultural, Media, and Rhetorical studies and a minor in Kinesiology. She currently works at The Marketing Store and hopes to one day have a career in YA book publishing. She does a lot of other things for a lot of other people but likes to dance around, read YA novels, and write poetry in her free time. You can usually find her singing to an array of music from hip-hop to alternative indie electronica (or something). Check out her website: joancristy.com
---
Mary Anne Mohanraj
Mary Anne Mohanraj is author of Bodies in Motion (HarperCollins), The Stars Change (Circlet Press) and ten other titles. Bodies in Motion was a finalist for the Asian American Book Awards, a USA Today Notable Book, and has been translated into six languages. The Stars Change is a Lambda and Rainbow Award-finalist science fiction novella. Previous titles include Aqua Erotica and Wet (two anthologies edited for Random House), Kathryn in the City and The Classics Professor (two erotic choose-your-own-adventure novels, Penguin), The Best of Strange Horizons, Without a Map, (Aqueduct Press, a collection co-authored with Nnedi Okorafor), The Poet's Journey (picture book), and A Taste of Serendib (a Sri Lankan cookbook).
Mohanraj founded the Hugo-nominated magazine, Strange Horizons, and serves as editor-in-chief of Jaggery, a South Asian literary journal (jaggerylit.com). She received a Breaking Barriers Award from the Chicago Foundation for Women for her work in Asian American arts organizing, won an Illinois Arts Council Fellowship in Prose, and was Guest of Honor at WisCon and Maneki Neko Con. She serves as Executive Director of both DesiLit (desilit.org) and the Speculative Literature Foundation (speclit.org), and directs the Kriti Festival of South Asian arts and literature (kritifestival.org).
Mohanraj has taught at the Clarion SF/F workshop, and is Clinical Associate Professor of English at the University of Illinois at Chicago. Mohanraj lives in a creaky old Victorian in Oak Park, just outside Chicago, with her husband, their two small children, and a sweet dog.
---
Ajapa Sharma
Ajapa Sharma began her Arts Administrator Internship in November 2018.
---
 Ellen B. Wright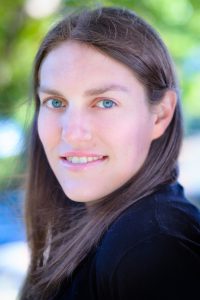 Ellen B. Wright is a book publicist specializing in science fiction and fantasy. She is currently Senior Publicist at Orbit, where her authors include Hugo, Nebula, Edgar, and Philip K. Dick Award winners; World Fantasy and James Tiptree, Jr. Award finalists; and New York Times and USA Today bestsellers. With Faye Bi, she helped fund the first three years of the Diverse Worlds/Writers Grants.