SLF Newsletter June 1, 2018
Hello! Not so much a letter as just a quick note that the SLF newsletter is back, after a long hiatus. Huzzah! Many thanks to David Lunde for his initial stint as Newsletter Editor. This particular newsletter has been drafted by Director Mary Anne Mohanraj in large part, with help from Kay Strock, our new Assistant Director. But we'd love to have a new Newsletter Editor to take over the job (no more often than quarterly). Interested? Get in touch!
The SLF is a volunteer-run organization, in the midst of an exciting reorganization, and we're full of great ideas for everything we can accomplish in the next few years. But we need help! If you'd like to get involved as a volunteer (as newsletter editor or some other role) and help shape the SLF's future, please drop Mary Anne a line at director@speclit.org with the subject line SLF VOLUNTEER. No experience necessary, just a passion for speculative literature, but if you have any particular skills, do feel free to note them! Join us!
In the past year, the SLF gave out a total of $3,750 to speculative literature writers, due almost entirely to the inexhaustible efforts of Malon Edwards, our Grants Administrator, and his hardy host of volunteer jurors. Starting with the 2017 Older Writers Grant, Mike Barretta & Anthony Dietz were each awarded $500 in August 2017. Both of the 2017 Diverse Writers and Diverse Worlds grants were awarded to Erin Roberts (pictured), for a total of $1000 on December 1, 2017. Joy Baglio won the 2017 Gulliver Travel Research Grant and was awarded $1000 in December of 2017. And ​recently,​ in April 2018, L.D. Lewis was awarded the ​2017 ​Working Class Writers grant for $750.
We are proud of all our grant recipients and all those who helped to support them with these grants. We can't wait to see what amazing new speculative fiction they create! If you're interested in funding a new grant directly, please drop Mary Anne a line at director@speclit.org with the subject line SLF GRANT FUNDER. While we can't promise to take on administering every grant, we'd love to talk to you about your (501(c)3 tax-deductible donation) grant ideas. If you want to chip in to help support our existing grants, check out the SUPPORT section below!
Complete lists of grant winners: http://www.speculativeliterature.org/grants/grant-winnters-lists
BLACK PANTHER FUNDRAISER:
In February 2018, we raised over $5000 in just one week (!) to send African-American kids from lower-income neighborhoods to see Black Panther. We provided 4 separate schools, 12 classes, and 439 kids (plus their teachers) with tickets. Thanks so much to all who contributed, and a special shout-out to Scott Woods, who donated a chapbook of brand new Black Panther poems to help motivate donors!
Fundraiser details here: https://www.youcaring.com/kidsatmultiplelocalschools-1103304
Black Panther Poems / Mixtape: https://scottwoodsmakeslists.wordpress.com/2018/05/15/i-never-freeze-black-panther-poems-mixtape/
DEEP DISH READING SERIES in CHICAGO:
In 2017-2018, the SLF partnered with SFWA and Chicago Nerds Social Club (CNSC) to bring out Deep Dish, a new Chicago reading series, hosted at Volumes Book Cafe.
Our inaugural event in October featured novelist Mary Robinette Kowal, debut novelist Cath Schaff-Stump, host Mary Anne Mohanraj, plus Chris Bauer, Richard Chwedyk, and Meg Khoury.
December featured debut novelists: Michael Moreci and Sue Burke, with Angeli Primlani, Valya Dudycz Lupescu, Stephen Segal, and Dan Gonzalez.
March featured Mary Robinette Kowal and Sandi Wisenberg, with Aurelius Raines II, A.D. Jameson, Kevin Wabaunsee, Dawn Bonanno Hebein, and Scott Huggins.
June will feature Ada Palmer and Eden Robins, with Chris Bauer, Tanya DePass, Shareef Jackson, Todd Sumnar, and Anaea Lay — Thursday, June 7th, 7 p.m., at Volumes: https://www.volumesbooks.com/event/deep-dish-summer-edition
We'll be taking the summer off, and then plan to be back in September. Drop Mary Anne a line at director@speclit.org with the subject line READING SERIES if you'd like to read with us. Please include a brief bio, and especially do note if you have a book coming out in 2018-2019! Newer writers (published or not!) are also welcome. We hope to see you there soon!
When the SLF has a presence at a convention, whether it's at a party or in the dealer's room, we often sell books. When we do, all other small presses and self-publishers in the field are invited to sell with us! Just drop Mary Anne a note when you hear we'll be at a con and say you're interested in joining in, and we'll fill you in on the details — usually we ask you to spend an hour or two at the table selling with us. (The SLF doesn't generally take a percentage.) We'd love to get the small press co-op going more actively again, with perhaps a forum for exchanging tips and info; if you're interested in helping organize that, drop a line to Mary Anne at director@speclit.org with the subject line CO-OP VOLUNTEER. We'd love to hear from you!
We had a terrific party at WisCon, selling books from a variety of authors and telling people about the SLF, and plan to return next year. We may also have a presence at WorldCon in San Jose this year — that's still up in the air, but should be decided soon. If you'll be at WorldCon and want to help with the party, definitely let us know!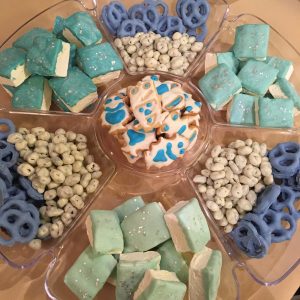 Girls in Capes did a lovely interview with me, if you'd like to learn more about the background of the SLF:
​"The road to publication is often met with challenges, and for some writers, those challenges are harder to overcome. In order to dedicate time to their craft, writers often apply to writing grants, but not everyone wins them easily. Speculative Literature Foundation Director Mary Anne Mohanraj knows just how frustrating – and intimidating – the application process for writing grants can be. To combat prejudice in the publishing field, Mohanraj decided to build an organization where members are dedicated to rewarding and promoting diverse writers or diverse stories with more attainable writing grants."
http://girlsincapes.com/2017/11/08/speculative-literature-foundation/​
This past fall, Kickstarter started a new Drip system, that lets organizations build long-term support with monthly donations. We held an initial drive in December, that let us build enough support to guarantee the next three years of the Diversity grants. We'd love to do more — specifically, we'd like to give our volunteer donors a tiny honorarium each (labor should be rewarded!), and we'd like to increase the number of grants we give out. If you can chip in $1, $5, $25 / month (or more!), we would really appreciate it. And if you'd prefer to give a one-time donation, you can do that too! All donation options, whether Drip, PayPal, or straight-up checks, can be found here: http://speculativeliterature.org/donation-info/
Every little bit helps, and together, we can accomplish so much. Help the SLF and speculative fiction writers across the world envision a brighter future!
Finally, please do keep in touch! We want to make sure you hear about everything we're working on. In whichever formats appeal to you, don't forget to:
Follow our Facebook page: https://www.facebook.com/speculativeliterature/
Join our Facebook group: https://www.facebook.com/groups/144837912219938/
Follow us on Twitter: https://twitter.com/speclit
Sign up for our newsletter: https://tinyletter.com/speclit
Thanks so much for your support!
Executive Director, Speculative Literature Foundation